A Community-Centered Project
Bringing Fiber-Based Internet Service to Lyme, New Hampshire
What is LymeFiber?
LymeFiber is a community-centered project offering fiber-optic Internet data service to all residences, businesses, and public organizations in Lyme. Levels of service range from 100Mbps up to1Gbps. All service is symmetrical - same speed upload and download - and are free of data caps. Monthly rates begin at $72.
Residential and business phone lines are now available as an option starting at $25 per month.
For more information, see our Frequently Asked Questions page.
Goals:
Universal Coverage. We aim to provide high-speed, fiber-optic-based Internet service to every reachable business and residence in Lyme.
Net Neutrality. LymeFiber will not throttle or otherwise interfere with your data.
A Future-Proof Design. Fiber-optic cable provides almost unlimited capacity for whatever new applications come along.
Competitive Pricing. The cost of our service will be competitive with similar service elsewhere in the region.
Community Focus. Bringing a needed service to Lyme - our community - is our primary goal.
Phone service is now available for LymeFiber customers! Telephone Service includes Long Distance calling throughout the US and Canada plus a full range of customer convenience features such as call waiting, call forwarding, as well as …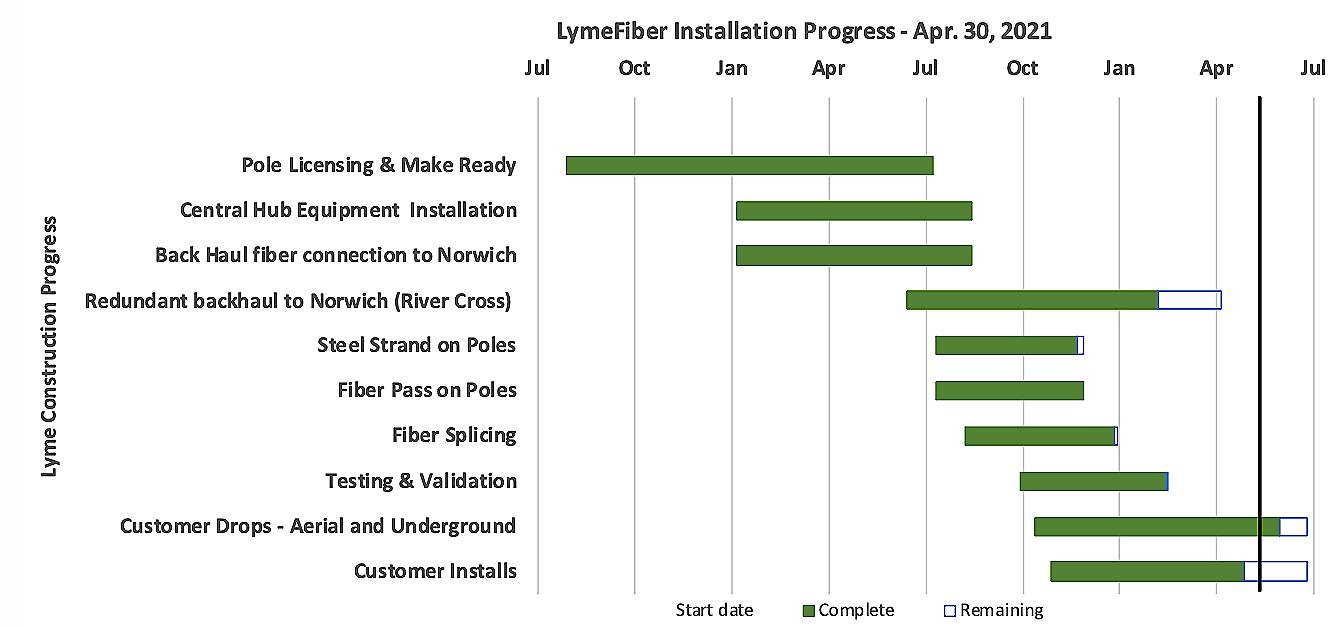 As we enter May 2021, more than 75% of LymeFiber subscribers are up and running. Our contractors are working on the remainder: they'll install drops to houses (some through underground conduit) and make the final …
We are beginning our third month of connecting customers with LymeFiber internet. We have already installed about 180 of the 500+ subscribers so far. We are pleased with the progress we were making. We are …